Sizing Woodheat systems
Before selecting any products we need to know how much energy your home or business will require. (This is commonly not calculated and most systems are oversized). It would a big mistake with solid fuel to wrongly size the boiler as wood pellet systems run more efficiently when operating to their designed output.
In selecting the correct boiler size we will take into account;
The overall energy loss of the premises (through walls, roofs, windows,foundations) including ventilation requirements, air losses and thermal bridging. This is now required with the BER assessments required for all new builds as of July 2008.
Sanitary hot water requirements.
Other forms of heat to be used/gained passive solar, heat recovery, solid fuel or range using gas or oil. A Stanley or AGA, for example, will likely take 3kW off the heat load of the boiler for space heating requirements.
Site parameters particularly regarding wind exposure and water table heat loss.
The energy control system that is chosen for the heating and hot water needs with a low energy system. Intelligent heating controls can allow premises to be heated more efficiently by a smaller boiler by regulating the heat into the zones on a needs basis. This may be done with set back temperatures when the heat is off or with monitoring changes in outside temperatures using weather compensating controls. The result of using smarter control systems is simply to reduce the present need of energy and allow smaller output boilers to work to their capacity. They need to be simple to operate and need not be expensive.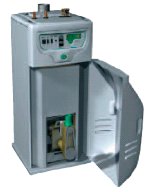 We offer boilers ranging from 8 to 40kW for the home and small business and up to 300kW for commercial applications. We can arrange a full audit of your existing house or business to allow us to suggest a suitable system.
On retrofits, we review both the building and its insulation issues and also factor in the energy used in the past, the type of control system used and the age and efficiency of the existing boiler.
In the case of building new, we can offer suggestions to minimize energy requirements and unnecessary expenditure on bigger kW systems that will not give long term operating economy.
---