Wood pellet silos

The Best Wood Pellet Pellet Storage Solution.
For fully automatic wood pellet boiler operation, a pellet silo feeding directly to the boiler is required. Home boilers may burn 3 -10 tons of pellets annually (equivalent to 1.5 to 5 tanks of oil). A minimum 3.7 ton UV silo sack from
Silobau Steinecke GmbH
has been selected as the best pellet storage solution. Bulk delivery of 3 tons (min) is approx. half the price of bagged pellets. Silo sizes are increased according to boiler output size and customer preference. Filling by bulk truck will therefore be done once or twice yearly depending on the boiler & silo size. Silo sizes range from 3.7 to 25 tons. The standard UV Silos are the least expensive option and can be easily installed inside a building, shed, garage, or basement where space permits near the boiler.
About the UV Silo: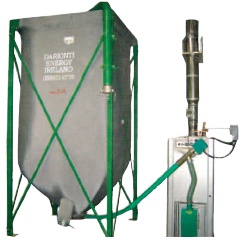 Silobau Steinecke Silos are made of a strong breathable membrane (KOSA 80) fabric (much like aircraft seatbelt material) and are specifically designed for pellets. They completely enclose the pellets for dry storage. Pellets are blown in by bulk truck into the top of the silo and the pellets are auger fed to the boiler. They are best located in a garage or dry shed near the boiler.
Special Features:
Breathable Membrane eliminates condensation problems and contains all the dust from delivery process. Delivery air passes through the fabric.
Central extraction (50º Cone) allows for complete pellet cycling. The silo design minimizes pressure on auger ensuring reliable auger delivery of pellets to the boiler.
Fabric is flame retardant and has low electrical resistance.
The steel structure has been double load tested in Ireland.
The silo can be easily checked for quantity. It comes with a manual extraction, thus avoiding expensive bag purchases for refilling pellet stoves.
Our silos are guaranteed for 10 years, but will last many more years as experience has shown.
Silo Details:
The 3.7 ton standard model frame is 2.3m x 2.3m wide x 2.4m tall (+ 20cm filling tube on top). As an option the silo can be made taller, going up into the cavity of the roof, allowing a reduced frame footprint of 1.65m x 1.65m width by 3.2 m tall (+ 20cm filling tube on top). This is a more efficient use of ground/loft space. Custom size silos are also available – please contact us for a quotation.
Back to Products
---