EcoTec UniQ
More compact, more efficient and even more comfort.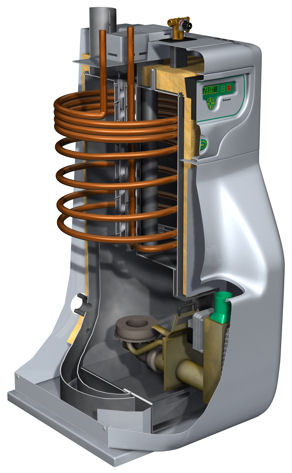 EcoTec UniQ is a completely new kind of pellet boiler developed for people who don't want to spend all their free time in the boiler room. The new EcoTec UniQ is designed to be simple, providing trouble-free operation, whilst also being easy both to install and maintain. The boiler is equipped with an adjustable flue pipe with draught limiter and a large fire box with a proper ash drawer, which means that the ash doesn't need to be emptied more than 1-3 times a year.
Automatic sweeping for the flue gas ducts is standard. This is so that the water will absorb more heat from the combustion, which reduces pellet consumption.The EcoTec UniQ design also means that the burner can be fed ash-rich pellets such as bark pellets or other types of pellets that may be developed further down the line.
EcoTec has played a major role in the development of quality in pellet technology for over 10 years, and the product name is self-explanatory. EcoTec UniQ represents the pellet technology of the future.
Standard Features for the UniQ Range are as follows:
Internal Water Buffer up to 350 litres
The boiler will start and stop as needed. The burner is self-lighting
Automatic pellet feeding from Bulk Silo
The wood pellet fuel is fed up though an auger pipe to a point above the boiler and free falls into the very small chamber of the burner and from there to the burning chamber in the boiler itself by way of precision feed.
Self Cleaning Burner ring
The combustion ash from the very efficient burner is evacuated automatically from the burning pot; this falls to the ash pit below and can be manually removed at cleaning
The ash (potash) is easily disposed of in the garden or compost. It is a natural fertilizer. Ash produced from 6 tons of pellets is 25kg.
The boiler has self cleaning in the passages where the flue gases pass.
The soot is automatically shaken off during each cycle of the boiler and also once a day. It is of course a good idea to clean these manually during very heavy use once a month when taking out the ash, and bi-monthly in other periods to allow convection efficiencies to remain high.
Additional Features for the UniQ Range are as follows:
The boiler can be fitted with a coil to produce domestic hot water directly from the boiler.
Dimensions.

|   | 20 /25kW | 30 - 50kW |
| --- | --- | --- |
| Height | 1,460mm | 1,170mm |
| Width | 700mm | 900mm |
| Depth | 700mm | 900mm |
| Water volume in buffer | 205 litres | 350 litres |
Technical details.

| | |
| --- | --- |
| Burner and screw | 60W |
| Hot air ignition | 370W |
| Max operating temperature | 100°C |
| Max working pressure | 1.5 bar |
| Minimum draught | 1.0mm vp |
| Plate thickness | 4 - 5mm |
| Water volume in buffer | 205 litre |
| Boiler efficiency | 90% |
---
---