Bioline burners - The original pellet burners -
Now passed for the new EN15270 European Standards for Safety, Relaibility and Maintenance.
This burner is the one for you if you want to use environmentally friendly pellets as the energy source for your heating. The burner below, the Bioline 20 for residential use, is more compact, more efficient with very intelligent control system. With 16 years of operational field experience, this burner has a proven track record.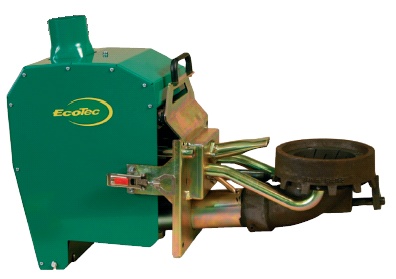 Underfeed combustion
Up to 95% Combustion Efficiency
Automatic ignition
PLC Control with intelligent monitoring functions
Simple, reliable and easy to maintain
EcoTec controller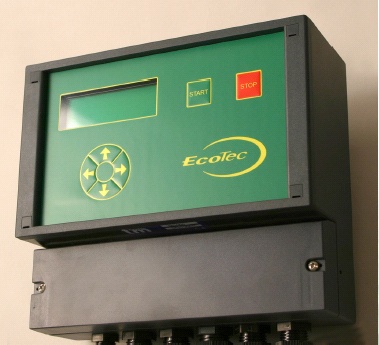 The EcoTec PLC (programmable logic controller) maintains the boiler temperature by control of the air supply and pellet feed. The display shows temperature and status of the boiler operation. It also monitors all safety functions of the burner.
Any alarm messages are recorded and saved for diagnostic analysis for easy problem solving.  
Why is the Bioline Burner an underfed burner?
The reason is simple. Underfeed combustion means easier servicing with fewer visits to the boiler room. All the fuel is forced upwards into the combustion zone. Even the smallest particles are forced up there too and fully combusted before the ash particles leave the burner dish. As a result, the burner on the EcoTec UniQ is not as sensitive to chips in the pellets you use, something which is unavoidable when the pellets are blown into the silo from a bulk tanker.

 

 

The bioline burner is also one of the safest on the market - see Safety for details

 

Operation and Maintenance

 

Cleaning




The burner is self cleaning as there is a rotating ring that evacuates all ash evenly into the ash pan below. If there is excessive dust in the fuel, the burner may require 3-5 minutes of cleaning possible coke deposits at the end of the burn cup which form a slight crust.

The burner operates well with these but they should be removed when the ash is cleaned out monthly/bi monthly in the winter and bi monthly in the summer. The tubulators, if installed can be cleaned monthly in the heating season to maximise efficiency, otherwise every 3 months.

The flue gas passages are partially self-cleaning on some of our boilers, and manually on the others. On the self cleaning ones, the soot in the convection tubes is shaken and drops off when the boiler goes up and down through a temperature point and also once a day. However, all our systems up to 40kW benefit from a seasonal stoking of the flue passages to maintain higher convective efficiency.




Pellet ignition




The boiler is self lighting; it uses a ceramic electric element on the 20 and 25 kW models; the 30 and 40kW boilers have a maintenance fire function, whereby the embers are kept aglow during boiler off times.


Download Burner Technical Details- Bioline 20-25kW (pdf)
Download Burner Technical Details- Bioline 30-50kW (pdf)

Back to Boilers

 
---